Louis-Noël Bestion de Camboulas, artistic director and conductor
Founded in 2010 by Juliette Guignard and Louis-Noël Bestion de Camboulas, the ensemble Les Surprises seeks to convey its passion for the music of the 17th and 18th centuries through varied and original programmes.
In borrowing its name from the opéra-ballet by Jean-Philippe Rameau Les Surprises de l'Amour, the group has placed its destiny under the lucky star of this composer, with the aim of exploring operatic music in all its shapes and forms !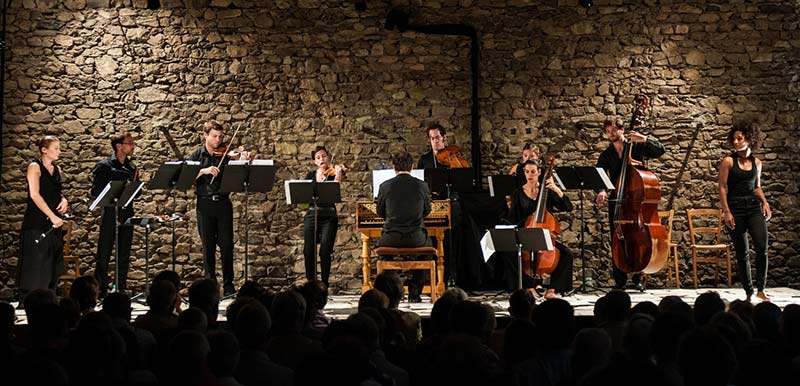 The work of the ensemble is anchored in a process of musicological and historical research, indeed Louis-Noël Bestion de Camboulas wishes to highlight scores that have never been released since the 18th century, thanks to music libraries such as Bibliothèque Nationale de France (BNF) or Bibliothèque de l'Opéra de Paris.
"Les Surprises have ideas, talents, a repertoire to explore. An ensemble that gives, and promises even more."

Muse baroque
"We are looking forward to the next concert of the ensemble Les Surprises !"

Alain Cochard, ConcertClassic

Louis-Noël Bestion de Camboulas, artistic director, organ and harpsichord
Juliette Guignard, dadministrative direction and viola da gamba
Eugénie Lefebvre, Hasnaa Bennani, Maïlys de Villoutreys, Cécile Achille, sopranos
Stéphen Collardelle, countertenor
Matthieu Chapuis, tenor
Étienne Bazola, baritone
Alice Julien-Laferrière, Gabriel Ferry, Marie Rouquié, Yoko Kawakubo, violins
Sophie Iwamura, Kate Goodbehere, violins and violas
Matthieu Bertaud, Sandra Latour, flutes
Anaïs Ramage, flutes and bassoon
Xavier Miquel, oboe
Julien Hainsworth, cello
Olivia Gutherz, celoo
Marie-Amélie Clément, doublebass
Étienne Galletier, theorbo
Sylvain Fabre, percussions
Artistes associés :
Zoé Grelié, photographe, direction artistique
Christophe Grelié, photographe, chef-opérateur, éclairagiste
Eric Chabrely, graphiste, photographe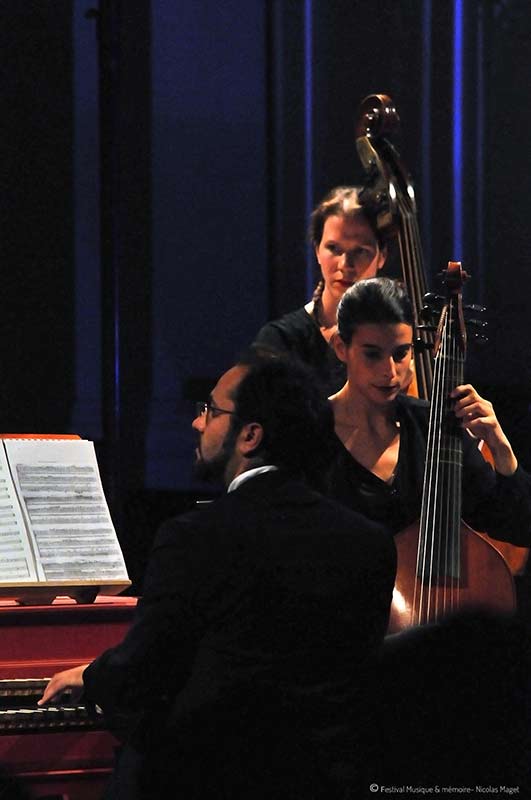 Les Surprises is an ensemble of varying size, which can metamorphose from a chamber group to one of orchestral dimensions. Its members were all trained at leading European conservatories.

In 2014 Les Surprises received the « Révélation musicale » (new discovery) prize awarded by the French critics' circle for the performing arts (« Syndicat professionnel de la critique de théâtre ») musique et danse.
The ensemble Les Surprises released fiveordings in the label Ambronay Éditions. All received great press.
The next one, Issé, will be released in 2019.
Since its foundation, it has appeared in numerous concert halls and festivals through Europe, including the Versailles Chapelle Royale, the Opéra de Massy, the Radio France and Ambronay festivals, the Sanssouci Festival (Potsdam, Germany), the Bozar season (Brussels), also in Festival Monteverdi (Cremona, Italy), Pavie (Italy)