Eugénie Lefebvre, Jehanne Amzal : sopranos / Clément Debieuvre, François-Olivier Jean : haute-contre / François Joron : taille / Etienne Bazola, Jean-Christophe Lanièce : basses 
Louis-Noël Bestion de Camboulas : direction 
ensemble Les Surprises Choir and Orchestra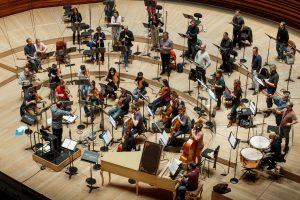 Two Te Deum clashes ! The very famous one by Marc-Antoine Charpentier and the completly new one by Henry Desmarets.
Charpentier and Desmarets, both remarkable composers of sacred music and opera, share their taste for Italian music and travel, but also the disfavor to stand in the « shadow » of Jean-Baptiste Lully !
Henry Desmarets was trained at the Royal Chapel of Versailles by Pierre Robert and Henry Dumont, then by Jean-Baptiste Lully (he then became one of his favorite students). He stood out at a very young age for his compositional gifts but didn't get the recognition he deserved, and lived quite a chaotic life.
During his time at the cour of Lorraine, Desmarets composes two Te Deum, including the Te Deum « of Lyon », unreleased to this day. Written for the same formation as the famous Te Deum by Charpentier, he uses trumpets and timbals for the great sections. This piece is quite a jewelry piece because of the instrumentation and the great diversity of the vocal pieces. According to Catherine Cessac, it is possible that this Te Deum has been performed for the arrival in Verdin of Marie Meszczynhska for her wedding with Louis XV. The motet Usquequo Domine « of Lyon », also unreleased, is built with the same structure than a previous motet by Desmarets, but with some changes on airs and vocal parts.
This concert gives the occasion to celebrate two great composers and to put some light on the work of Desmarets, which is now forgotten.
Coproduction Centre de musique baroque de Versailles – Festival Sinfonia en Périgord – Ensemble Les Surprises